To ensure that your scanning service is active, check your subscription in the widget store and your postal redirection.
In the widget store, all activated offers are marked with "subscribed". Should this summary be insufficient, you will find a selection of activated widgets under "my widgets".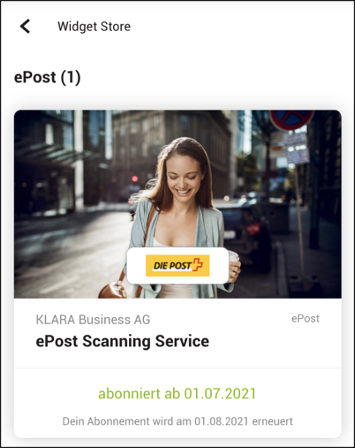 You can also decide for which addresses the scanning service is to be used. You can adjust this under "Address" in your profile on the app. Simply activate verified addresses by toggling.
How to access the widget store:
Call up the ch link in your browser and log in using your login data.
Select "Visit widget store"
Check whether you have activated the "ePost scanning service" widget.
If the widget has been activated, you can check in your Post profile whether there is an active redirection for your address. Please note that this is only possible if you have a login for the Post.
Log in to the Post portal post.ch on the top right via the login.
Select "All online services" in favourites in your customer centre.
Search for the "Redirect post" feature and select this.
Click on "cancel" and you will now be redirected to the "service overview".