Did you receive an error notification that your address is not valid?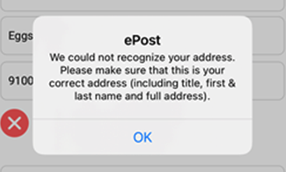 We check the address based on the information provided by the Post.
Please check the following:
Is your name marked visibly on your mailbox?
Do you receive letters at this address?
Have you set up a freeze or non-visibility at the address with the Post?
To find out if your address is valid, you can do this online via the following link to request a query at the post office.
https://service.post.ch/zopa/app2/public/ui/view/master
If this address is not known, you should contact the Swiss Post and get it activated. It is important that the activation is also visible to third parties.
As soon as your address is active at the post office, you can activate the scanning service.